The Portable Air Conditioner for Camping Tents was developed primarily to provide air cooling in tents or transportable buildings. The portable tent cooling air conditioner not only provides greater comfort but also protects equipment and materials from hot weather damage. The easy and fast install tent air conditioner is fitted with flexible duct and the unit itself must be located outside.The function of the Tent Air Conditioner is based on a cooling circuit and powerful fans. The evaporator section contains the evaporator and a centrifugal fan, which draws warm internal air of the tent through the cold evaporator and blows out the cooled air through the side or the top of the unit. The condenser section contains two condenser coils and a large axial fan, returning the heat taken from the internal air to the outside atmosphere.
We Taizhou Tentcool Electrical Appliance Co.,Ltd is professional refrigeration equipment manufacture which combine R&D, Manufacturing, Marketing, Customer Service together. Located in Taizhou City Jiangsu Province, founded in 2012, with 5000m2 plant, with 60 employees, 1/4 of them are all engineers. Main products:tent air conditioner, Camps Air Conditioner, Marine Air Conditioner, Cabinet Air Conditioner, Dehumidifier, Industry oil cooling equipment, Industry air conditioner and so on.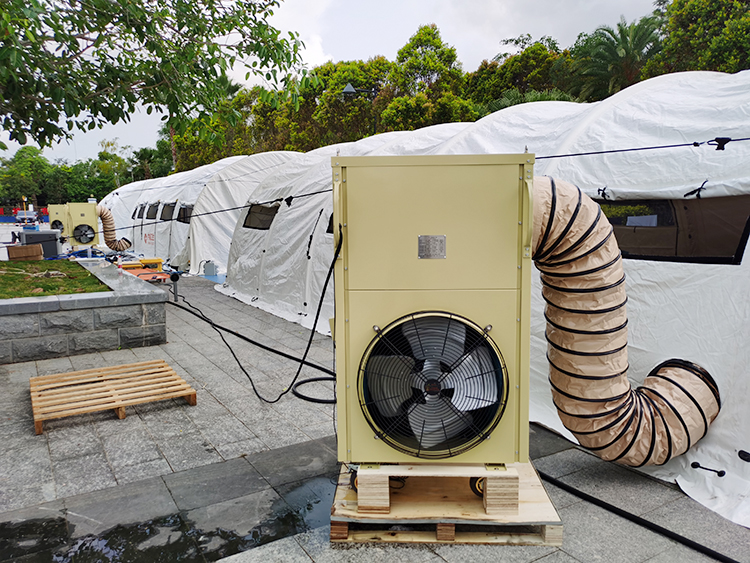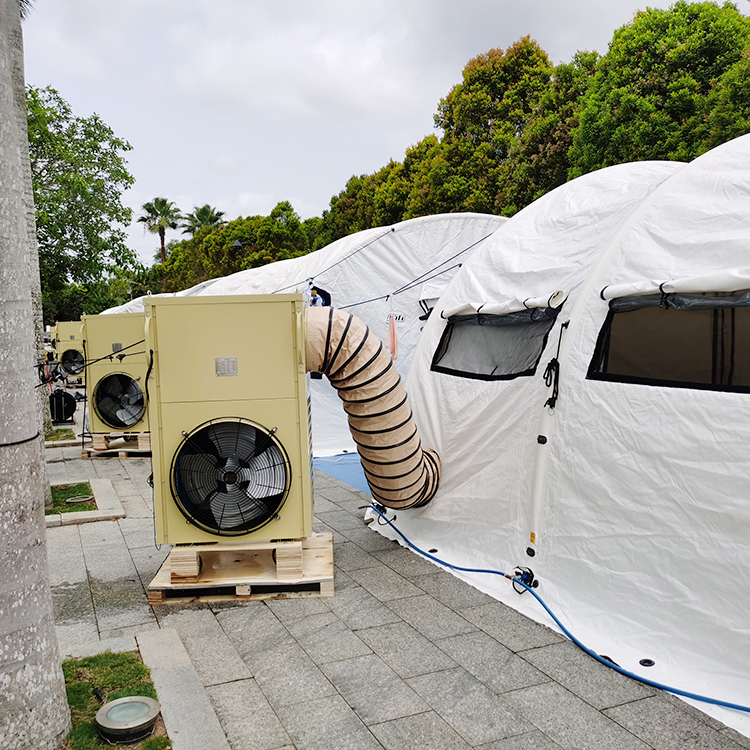 • Easy
installing, just connect the flexible duct to Tent air conditioner and the tent,connect the power, then tent air conditioner can start to work;
• Quick installing, one person just one minute can finish the install.
•The AC is built into a cabinet manufactured from galvanized and powder coated steel sheet, the steel machining by CNC machining center, with a higher structure strength;
•Top finish painting is standard Olive green, also can painting according customer's needs;
•Can provide cooling at ambient temperature up to +60℃, tent air conditioner heat pump can provide heating at ambient temperature at -10℃;Heater Resistance can provide heating at ambient temperature at -45℃;
• Environment-friendly R410a refrigerant gas;
• High/low pressure prostate switch will protect the compressor from damage if the system with higher or lower pressure than the normal pressure data, and will auto back to work when the pressure normally;
• Emerson thermal expansion valve, it can exactly control the refrigerant gas volume into the the evaporator,make sure the whole system always in the best working condition when cooling and Heating;
• Connect to the mains power supply or a separate diesel generator through a 7.5 m power cable, can equip with industrial plug according needs;
• Equip two pcs insulated flexible hose for each unit, to connect the Air conditioner with the tent, tent inside is far away from the noise, give comfortable and quite tent ;
• Easy transportation, have four wheels in the bottom, can easy move on the ground.
• Temperature Control by LCD Wire Controller, Have Cooling, Heating, Dehumidification,Ventilation,Fresh Air(Customization), Purification Air(Customization) ;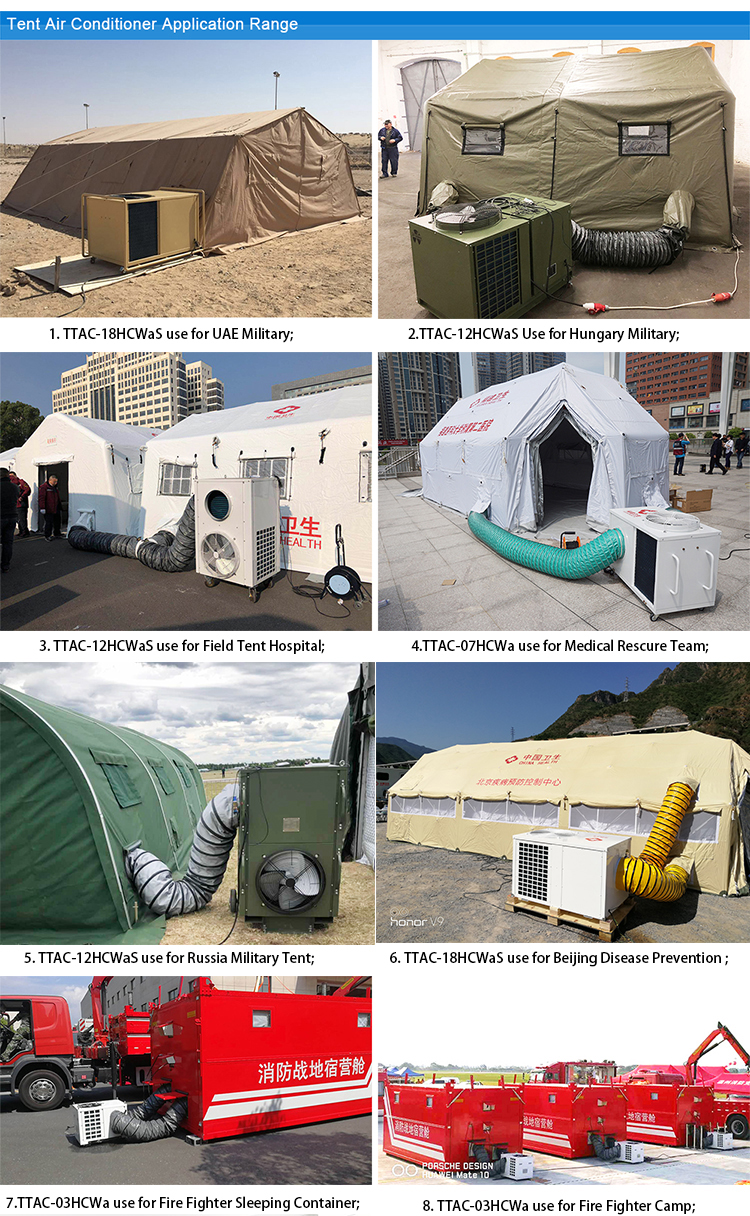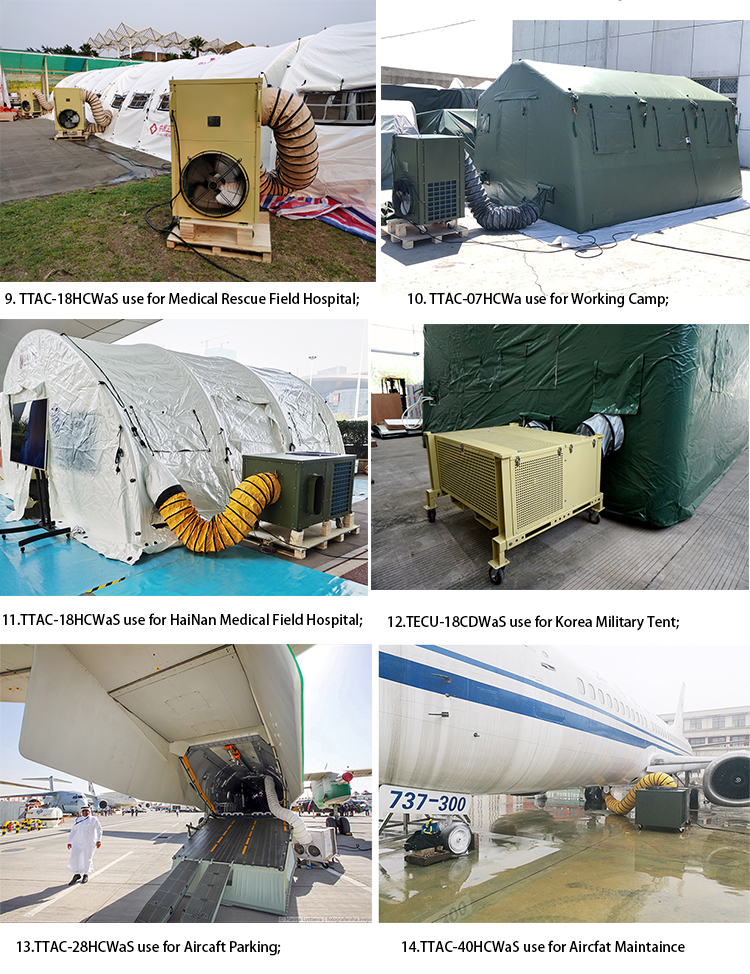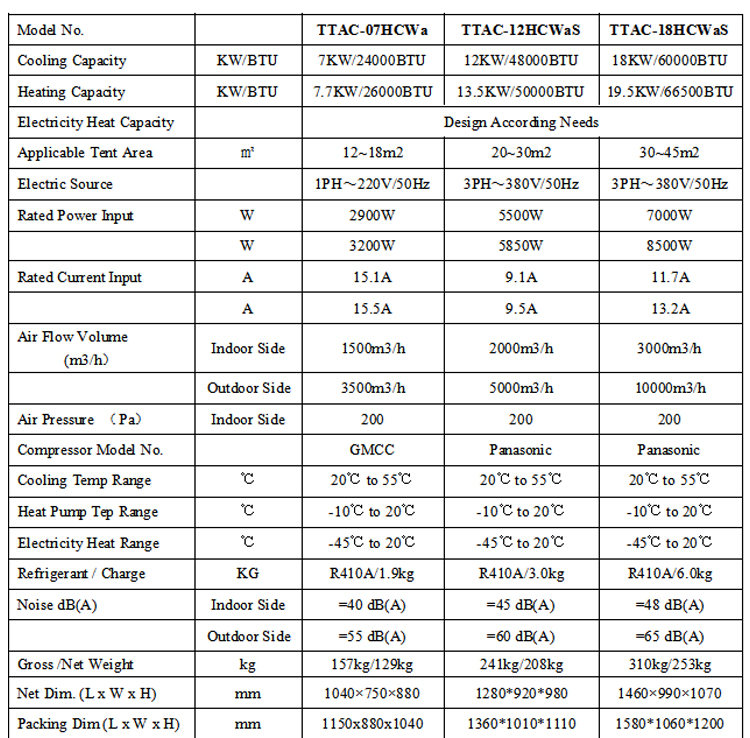 TENTCOOL is a diversified, high-tech and internationalized modern company focusing on energy efficient climate control solutions within cooling, heating and dehumidifying. The key products include Tent air conditioner, Camps air conditioner, Marine air conditioner, Cabinet air conditioner, dehumidifier, Industry oil cooling equipment, Industry air conditioner for speical use or with customized design.
TENTCOOL endeavors to offer market-demand products, develop existing and new customer relations. The products are specially designed and supplied to military and humanitarian organizations, as well as special apartments or spaces like temporary buildings, accommodation, military camps, relief camps, tents, work camps (oil and gas industry), etc. TENTCOOL warmly welcome the world interested partners working together to making contributions on special climate control demands.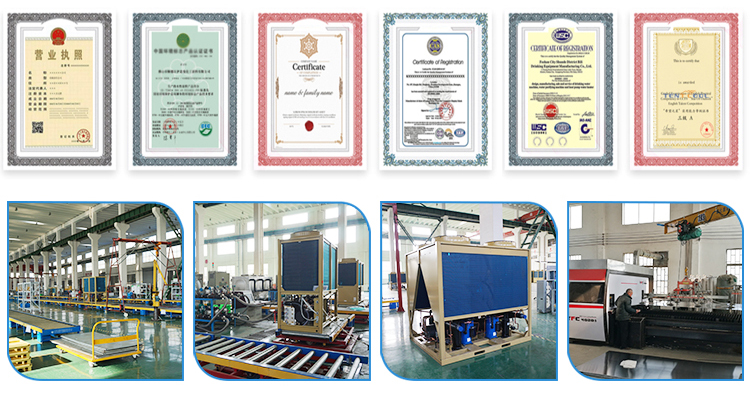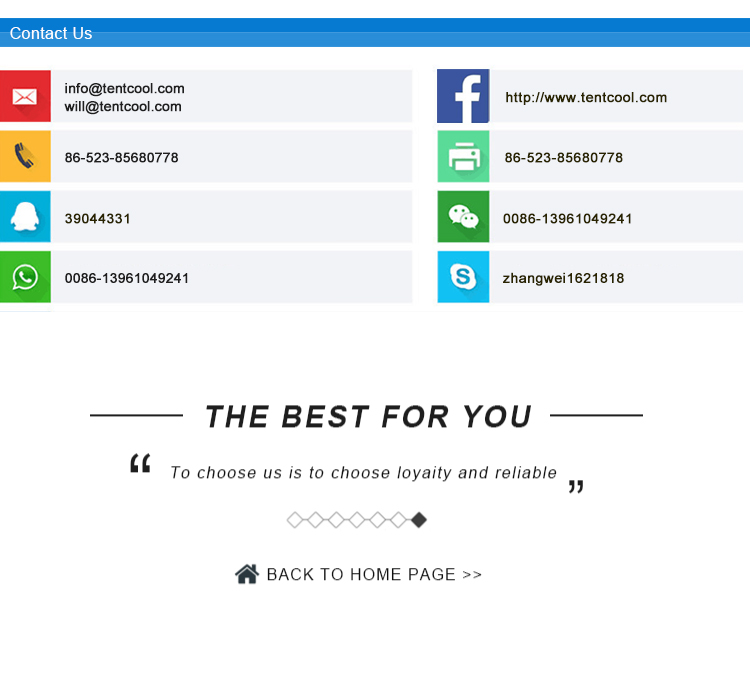 Looking for ideal Large Tent With Air Conditioner Manufacturer & supplier ? We have a wide selection at great prices to help you get creative. All the Grow
Tent Air Conditioners
are quality guaranteed. We are China Origin Factory of Portable Air Conditioner for Camping Tents. If you have any question, please feel free to contact us.